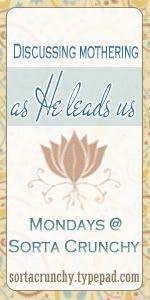 In the spirit of
spreading the bloggy love
, I wanted to tell you about some exciting things going on over at
Sorta Crunchy.
Megan and
Laura
are looking for input from parents and not-yet-parents for
the book
they are working on. So on Mondays they are discussing parenting styles and the beliefs that those stem from.
They are asking for comments anytime this week on their post about
Concerns Over Sleep Training
.
So stop on by and give 'em your two cents! (You know you're dying to!)
P.S. If you missed last week's post on the
Cost of Serving
, you might want to check that out too. It was simply beautiful.